Our school is part of the Pontefract Academies Trust.
The Trust was created under the provisions of the Academies Act 2010, as amended by the Education Act 2011. Its structure of governance is constituted under the Articles of Association. The Trust is an exempt charity by virtue of the Charities Act 2011.
The Funding Agreement between the Department for Education (DfE) and the Trust sets out the terms and conditions on which grant is made. The Trust Board is responsible for ensuring that the conditions of grant are met. As part of this process the Trust is required to have in place appropriate arrangements for sound governance, financial management, securing value for money and accounting, and for using public funds for the purposes for which they were intended by Parliament.
This Trust Board is accountable in law for all decisions about its schools. This does not mean that the Trust Board is required to make all of the decisions itself. Some decisions can be, and are delegated, including to SPRB, delegated officers, and other Trust Board established committees. The Scheme of Delegation sets out the framework which the Trust Board has approved.
All governance documentation for the Trust, including the Funding Agreement, Scheme of Delegation and Articles of Association can be found here.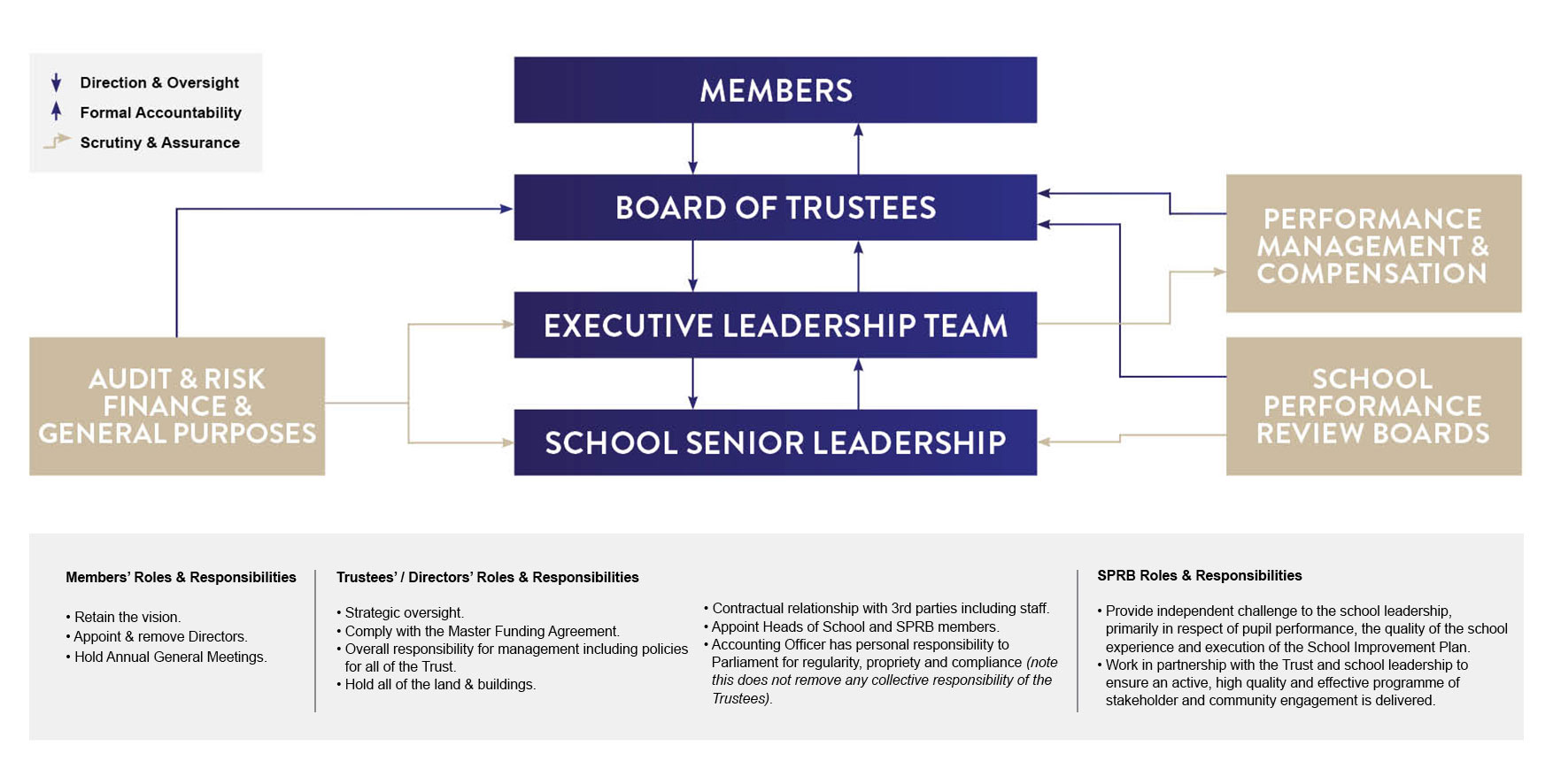 Halfpenny Lane J, I & N and Orchard Head J, I & N Schools Performance Review Board (SPRB)
The Halfpenny Lane and Orchard Head Schools SPRB is a sub-committee of the Trust Board and has various responsibilities delegated to it through the Pontefract Academies Trust Governance Policy and Scheme of Delegation.
The SPRB of Halfpenny Lane and Orchard Head is currently made up of:
| Name | Role | Appointed By | From | To |
| --- | --- | --- | --- | --- |
| T Craven | Chair | Trust Board | 17/05/2017 | 16/05/2025 |
| J Carr | SPRB Member | Trust Board appointed Staff Member | 13/05/2019 | 12/05/2023 |
| D Harrison | SPRB Member | Trust Board | 19/03/2018 | 18/03/2022 |
| J Mitchell | Headteacher, Orchard Head J, I & N School | Ex-officio | 01/01/2019 | Not Applicable |
| S McNally | SPRB Member | Trust Board | 10/12/2019 | 09/12/2023 |
| C Moore | SPRB Member | Trust Board | 30/01/2014 | 31/08/2022 |
| T Fay | Interim Headteacher, Halfpenny Lane J, I & N School | Ex-officio | 01/05/2022 | Not Applicable |
| A Small | Vice Chair | Trust Board Appointed Parent | 19/03/2018 | 18/03/2022 |
| C Twist | SPRB Member | Trust Board Appointed Parent | 19/03/2018 | 18/03/2022 |
| C Dawson | SPRB Member | Trust Board | 20/07/2021 | 19/07/2025 |
The Chair can be contacted at the following address:
Halfpenny Lane J, I & N School
Halfpenny Lane
Pontefract
WF8 4BW
or by email at tcraven@patrust.org.uk
I have lived in Pontefract all my life and I am married with two adult sons. I have worked for Wakefield District Housing for over 30 years in a variety of roles – currently working with children and young people, helping them to maximise their potential. I am also a member of the Chartered Institute of Housing.
I was previously a Governor at a school in Airedale, however, I moved to Orchard Head and Halfpenny Lane in order to work with the community I know best.
I play football every week, enjoy running (having completed the London Marathon and the Great North Run seven times) and I am a keen supporter of Featherstone Rovers.
Having been to school in Castleford,  I went on to study a teacher training degree with History at Leeds Trinity University. After a four-year degree course, I started working at Orchard Head J, I & N School. At the beginning of my career, I worked in several years groups. I have been an Early Years teacher for the last 10 years, which I am extremely passionate about.
I believe that all children are entitled to the best start in their education. I have been part of the Senior Leadership Team at Orchard Head for the last 5 years and I am committed to ensuring that outcomes improve rapidly, that all children attend school and that we have high expectations of them. Recently, I have become the Inclusion Lead, which has enabled me to support our children and families.
My areas of specialism include Early Years, safeguarding culture and practice, improving attendance and managing behaviour to create a positive climate for learning. I joined the SPRB in June 2019.
I am a retired Headteacher of a school in Leeds. I have interests in music, fishing and motor biking. I am also part of an amateur dramatics society and I enjoy performing different plays. As I am able to, I enjoy coming into the schools to work with the children and support in any way I can.
Before joining Orchard Head J, I & N School, I was a Headteacher in Leeds. During my career, I have taught in a number of schools in different authorities and in a range of different year groups. From my experience of working in education for 17 years, I know that a successful and happy school depends on all of us working together and I am extremely excited about the challenge that lies ahead of us all.
Having lived in the Pontefract area for most of my life, I have a real interest in the education and experiences available for the children in our area.  I have served on the governing body since 2014 in various roles as Chairs of committees and Vice Chair.
My particular interest is Early Years as I am an Assistant Head and Early Years Leader at a school in the local area and wish to use my expertise to support my children's school as a SPRB Member. In my leisure time, I enjoy spending time with my family, reading and baking.
I have lived in Pontefract for over 10 years. I have two young children at Halfpenny Lane J, I & N School and now that my youngest is at nursery, I have more time to get involved with the schools.
I am a qualified accountant and have worked for the NHS for 17 years in various roles. I currently work at NHS Doncaster Clinical Commissioning Group as Senior Finance Manager supporting their NHS contracts.
In my spare time I love spending time with my family and friends. I also enjoy swimming, music and theatre.
I went to Larks Hill J & I School and The King's School, and have lived in Pontefract all my life. I am married and have two daughters who attend Halfpenny Lane.
I am an Early Years teacher and have been for 16 years. I have always worked in the same school (Snaith Primary School) and have taught in both the reception and nursery classes.
I really enjoy music and singing, and playing the piano. I also like to go on bike rides with my family.
SPRB Current Register of Business Interests
C DawsonSPRB MemberNone declared
Role
Name of business or organisation/educational organisation
Nature of business or organisation
Nature of interest
Date of appointment of acquisition
Date of cessation of interest
T Craven
Chair of SPRB
None declared
J Carr
SPRB Member
None declared
D Harrison
SPRB Member
S Harrison ASPESL
CPD for Primary PE Co-ordinators based at New College
Wife provides CPD training
September 2018
N/A
J Mitchell
Headteacher, Orchard Head J, I & N School
None declared
S McNally
SPRB Member
Wakefield District Housing
Housing Association
Employee
11/01/2015
N/A
T Fay
Interim Headteacher, Halfpenny Lane J, I & N School
None declared
C Moore
SPRB Member
None declared
C Twist
SPRB Member
Snaith Primary School
Education provider
Nursery Teacher
01/09/2002
N/A
A Small
Vice Chair
Halfpenny Lane J, I & N School
Education provider
Parent - 2 children in school years 2 and 5
01/09/2014
N/A
SPRB Membership & Attendance Summary 2020/21
From
To
Appointed By
Meetings attended
Out of a possible
T Craven (Chair)
17/05/17
16/05/25
Trust Board
4
4
J Carr
13/05/19
12/05/23
Trust Board
4
4
D Harrison
19/03/18
18/03/22
Trust Board
2
4
J Mitchell
01/09/19
N/A
Ex-officio
4
4
S McNally
10/12/19
09/12/23
Trust Board
1
4
H McNeill
12/04/21
N/A
Ex-Officio
1
1
C Moore
30/01/14
31/08/22
Trust Board Appointed Parent
4
4
A Small (Vice Chair)
19/03/18
18/03/22
Trust Board Appointed Parent
4
4
C Twist
19/03/18
18/03/22
Trust Board Appointed Parent
4
4
Left within the last 12 months:
Tom Fay (Interim Headteacher)
01/01/21
11/04/21
Ex-Officio
1
1
J Parkinson
01/09/17
N/A
Ex-officio
3
3